Carport Conversion in Orlando FL
Our contractors will convert your carport in to a garage or even remodel it (like to use as a Sun Room or for some other purpose). If you want your carport in Orlando enclosed and converted in to a garage, use this page. If you want an "addition" where you now have a carport, click here: other renovations.
"Why do you have such great reviews for
carport conversions in Orlando?" (For the answer, click

here

.)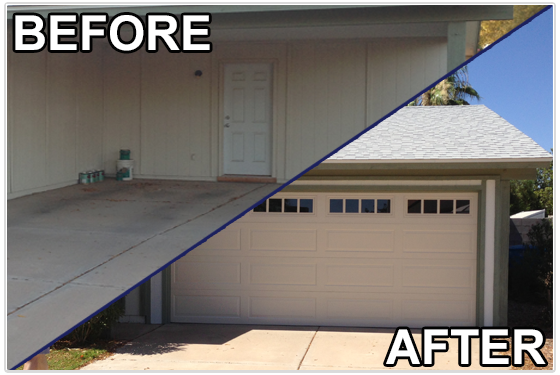 Our experienced professional that will enclose your carport is a licensed general contractor. He has built garages as well as full homes, plus converted carports in to garages. When converting your carport to a garage in Orlando, wouldn't you value using professionals that have extensive experience with every element of your construction project?

The most important thing with your conversion project is that you are satisfied with the results for many years, right? If you want to see "before and after" pictures and then skim through several brief testimonials of happy customers that recommend that you hire our conversion specialists, then scroll down below this pink box to the grey box. (There are even 3 audio testimonials across the top of the grey box).


Our contractor has converted carports in Orlando across 3 decades
In our decades of work in the Orlando area, we also have developed great relationships with the staff of the various local cities who issue permits for home renovations and who conduct inspections for carport enclosures and garage conversions. In addition to the other required inspections, some projects may also need electrical inspections. The process of dealing with the paperwork and the inspectors can be stressful for many homeowners. Wouldn't it be nice to have someone else to handle all of that for you?

Especially if you ever rent out the home after enclosing a carport, you also want the lasting value of having garage doors that have been installed properly (so there is no hassle of correcting any errors in the bracing, in the alignment of wheels and tracks, or in the compatibility between the weight of the doors and the power of the opener). Also, when you eventually sell the home, not only will an enclosed garage make it easier to sell, but sellers in Orlando can produce an increase in the actual selling price of the home that is bigger than the total cost of the conversion.

When you hire our professionals to convert your carport in to a garage in Orlando, you will feel the interest and confidence of our specialists as we speak with you about your priorities and questions. It can be very exciting for you to see the project get completed so smoothly and quickly. You may also be quite relieved to find out how little the entire project will be.
If you are just starting to plan a carport conversion and want to read our planning FAQs, click costs, codes, permits, etc.

Next, you can see a few more of the steps involved in converting your carport in to a garage by clicking here: step 1: building the walls to enclose the carport.

Finally, contact us today to schedule your consultation.
| | | | | | | |
| --- | --- | --- | --- | --- | --- | --- |
| Would you like to HEAR some grateful reviews of our Orlando contractor who converts carports to garages? | | "I have a lot of experience with a lot of contractors. I had worked with many contractors over the [last 25] years. Dave was BY FAR the best." | | "I have dealt extensively with contractors (for big projects and small projects). David and his team got exactly what we envisioned... and they executed it perfectly! I've referred him since then to a handful of my friends. All day long, I recommend David." | | "I had hired somebody that did a really bad job, made a mess of things with the city building officials and we were just at a standstill on a project.... Basically, he came in and... in a matter of weeks has completely turned the project around. He's excellent, very professional, very good communication. You can tell that he really cares. Ten on a scale of one to ten." |
| | | |
| --- | --- | --- |
| This carport was converted to... | | this garage: |
| conversion to a bedroom: | | conversion to a Sun Room: |